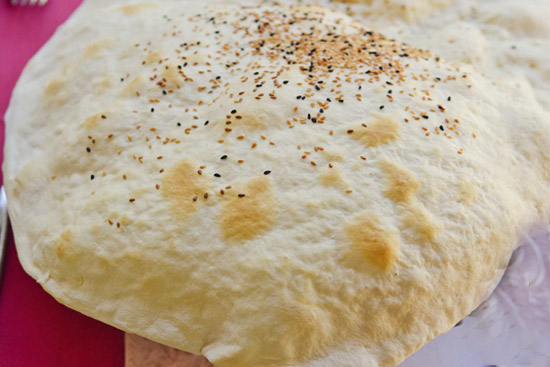 4

10 minutes
Ingredients
3/4 cup plus 2 tablespoons water
3/4 cup milk
3/4 teaspoon active dry yeast
3/4 cup durum flour
3/4 cup bread flour
1/2 cup cake flour
1/2 cup plus 2 tablespoons whole-wheat flour
1/8 teaspoon salt
2 teaspoons molasses
1 tablespoon honey
1 tablespoon olive
oil Sesame seeds, poppy seeds, or salt, as needed
Parchment paper
Preparation
Preheat oven to 400 F.
Combine water, milk, and yeast into bowl of a heavy-duty mixer. Stir with a spoon to dissolve the yeast. Add flours, salt, molasses and honey. Attach dough hook and mix at low speed for 10 minutes.
Scrape dough into a large bowl and cover tightly with plastic wrap. Allow dough to rise for an hour at room temperature.
Turn dough out onto a floured surface and gently punch to remove most of the air.
Cover dough with a clean cloth and let rest for 15 minutes. Divide dough into 4 pieces. Stretch, or roll with a rolling pin, each piece to paper thin.
Brush each piece with olive oil, and sprinkle with seeds or salt. Place a piece of parchment paper on top of dough and roll seeds in with a rolling pin. Let rest for 15 minutes.
Place pieces on an ungreased cookie sheet. Bake until golden brown, about 7 to 10 minutes.
Cool and break into random pieces. Wrap tightly in plastic wrap.