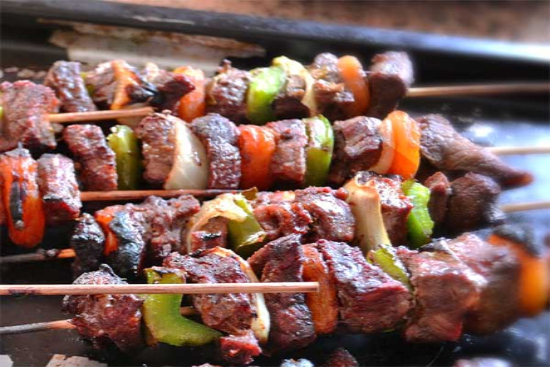 4

15 minutes
Ingredients
1 teaspoon fresh thyme leaves
1 teaspoon fresh rosemary leaves
3 cloves garlic, peeled
2 tablespoons chopped parsley
1/4 teaspoon black ground pepper
1/3 cup olive oil
1 1/2 pounds boned leg of lamb into 16 cubes
2 medium red peppers
2 medium onions, peeled
Preparation
Combine in the bowl of a food processor thyme leaves, rosemary, garlic, and parsley. Process until mixture is minced. Transfer to a bowl, and add pepper and olive oil.
Transfer the marinade to a shallow dish, about 10 inches long. Cut the peppers and onions into 1 1/2-inch squares pieces.

Thread the lamb on four 12-inch metal skewers alternately with the peppers and onions.
Put the brochettes in the marinade, turning them so that they are well coated.
Let them marinate at room temperature for 2 hours or longer, turning them every 30 minutes.
Sprinkle the brochettes with salt and pepper.
Broil or grill them over high heat, turning them occasionally, for 12 minutes or until the lamb is well browned.
Serve the lamb brochettes with rice or couscous.