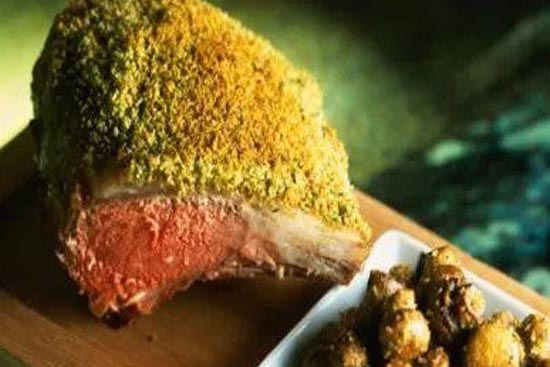 4

30 minutes
Ingredients
2 ounces dried black trumpet or other dried mushrooms
1 egg
salt and black pepper to taste
flour for dredging
2 racks of lamb, boned and trimmed
4 medium leeks, trimmed of hard green parts, split in half, well washed and roughly chopped
1 tablespoon butter
4 tablespoons extra virgin olive oil
4 ounces fresh shiitake, trimmed and cut into chunks
2 cloves garlic, lightly smashed
2 sprigs thyme
Preparation
In a coffee grinder or spice grinder, grind dried mushrooms to the consistency of coffee. Set aside.
Beat egg in a bowl, with salt and pepper. Dip lamb in flour, shaking off excess. Dip it into egg, and then into mushrooms.
Pat mushrooms to adhere; coat lamb heavily. Refrigerate for about 1 hour or up to 4 hours.
Cook leeks in salted boiling water. Drain, and puree with butter. Season with salt and pepper. Reserve. In a medium skillet, heat half of the oil. Saute mushrooms, garlic and thyme until mushrooms are tender.
Preheat oven to 500 degrees. Place remaining oil in an oven-proof skillet. Heat to medium-high. Add lamb.
Cook for 2 minutes on one side. Turn and place skillet in the oven for 5 to 6 minutes for rare, medium-rare, (125 degrees) or longer for medium. Let lamb rest for 5 minutes then cut into 3/4-inch-thick slices.
Place a dollop of leek purée on each plate; top with portions of mushrooms. Place lamb on top.