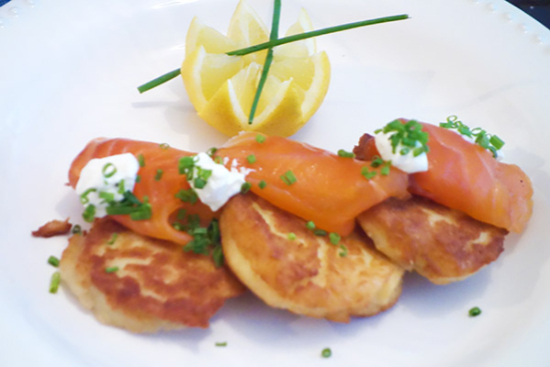 4

20 minutes
Ingredients
2 lbs peeled and cubed potatoes
1/4 cup cream
1/4 cup wheat flour or cornstarch
2 eggs, lightly beaten
5 oz (150 g) smoked salmon slices
2 tbsp creme fraiche or light sour cream
garnish chives and lemon wedges
Preparation
Cook potatoes in salted water for 10-15 minutes until tender. Drain well and mash with 1 tablespoon cream.
Transfer potato to a large bowl. Whisk in flour, eggs and remaining cream. Season to taste.
Heat a large non-stick frying pan on medium spray with oil.
Add batter to the pan in 1/4 - cup measures. Cook pancakes, in batches, for 3-4 minutes, then flip over and cook for 2-3 minutes until golden and cooked through.
Transfer cooked pancakes to a baking tray and keep warm in the oven. Top pancakes with smoked salmon, creme fraiche and snipped chives. Serve with lemon wedges.