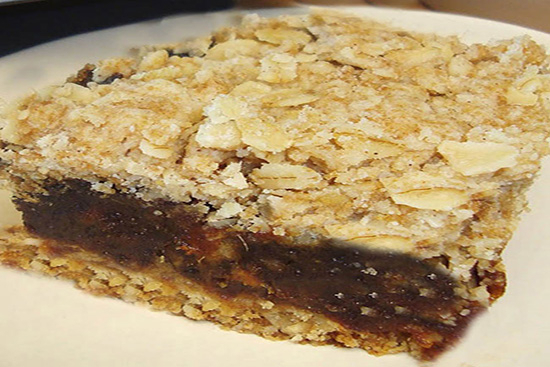 8

45 minutes
Ingredients
1 1/2 cups flour
1/2 teaspoon baking soda
1 1/2 cups oatmeal
1 1/2 cups brown sugar
1 cup butter

For filling:
1 1/2 pounds pitted dates
1 cup hot water
1/4 cup sugar pinch of salt
1 teaspoon vanilla

Preparation
Preheat oven to 350 degrees.
Prepare filling first. Combine dates, hot water, sugar and salt together in a saucepan.
Cook over medium heat until dates are soft and water is absorbed; add vanilla and let cool.
Stir flour and baking soda together; add to oatmeal and brown sugar and mix well.
Work in butter with fork until mixture is crumbly. Spread 1/2 the mixture in bottom of greased 9" square pan and pat down; cover with cooled date filling.
Pat 1/2 of remaining mixture on top; then sprinkle over lightly with remainder.
Bake for 35 minutes.