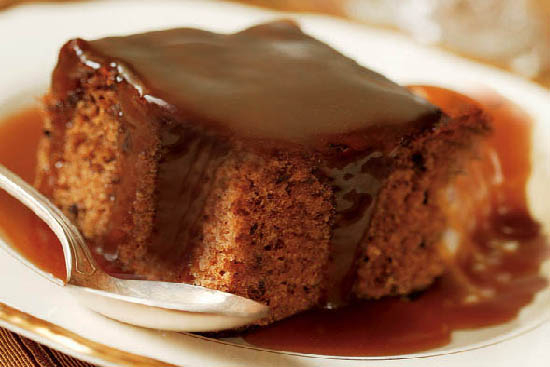 10

35 minutes
Ingredients
For the cake:
¾ pound dates, pitted and chopped
1 teaspoon baking soda
¼ pound (1 stick) unsalted butter, at room temperature
1/3 cup granulated sugar
2 extra-large eggs, at room temperature
1 teaspoon pure vanilla extract
1¼ cups all-purpose flour
1 teaspoon kosher salt
1½ tablespoons baking powder

For the sauce:
10 oz (2½ sticks) unsalted butter
2 cups light brown sugar, lightly packed
1 cup heavy cream
¼ teaspoon kosher salt
1/3 tablespoons Irish whiskey
2 teaspoons pure vanilla extract

2 cups Sweetened whipped cream, for serving
Preparation
Preheat the oven to 350 degrees. Butter and flour a 9 x 2-inch round cake pan.

Place the dates in a deep saucepan with 1¾ cups of water. Bring to boil, stirring a little to break up the dates. Allow to simmer 1 minute. Off the heat, stir in the baking soda (it will bubble up!). Set aside.

Meanwhile, in an electric mixer fitted with the paddle attachment, cream the butter and granulated sugar on medium speed for 3 minutes, until light and fluffy. With the mixer on low, add the eggs, one at a time, and then the vanilla, scraping down the mixing bowl. (It may look curdled.) Combine the flour and salt and, with the mixer still on low, slowly add it to the batter. With the mixer on low, add the hot date mixture in two batches to the batter, scraping down the bowl. The batter will be runny but don't worry! Stir in the baking powder, which will also bubble up. Pour into the prepared pan. Bake for 30 to 35 minutes, until a toothpick inserted in the center comes out clean.

Meanwhile, combine the butter, brown sugar, heavy cream and salt in a medium saucepan and bring to boil. Reduce the heat and simmer for 1 minute. Off the heat, stir in the bourbon and vanilla and pour into a 2-cup heat-proof glass measuring cup. Set aside.

As soon as the cake is done, poke holes all over it with a toothpick. Pour one cup of the sauce evenly over the cake while still warm and allow it to soak in for 30 minutes. Turn the cake out bottom side up onto a flat serving plate and pour one more cup sauce on top. Cool completely.

Serve at room temperature with sweetened whipped cream and remaining whiskey sauce.