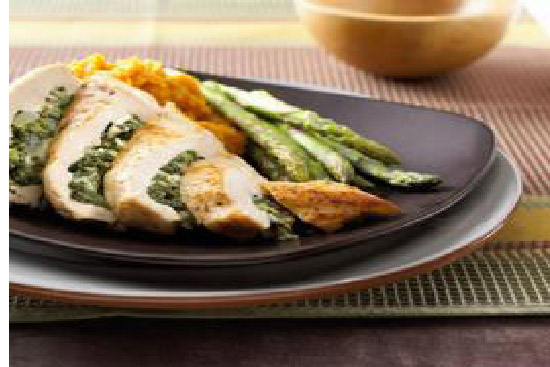 4

5 minutes
Ingredients
4 skinless chicken breast
1/2 teaspoon salt
1/4 teaspoon black pepper
1 pound fresh spinach
3 teaspoons butter
2 teaspoons chopped shallots
1/8 teaspoon nutmeg
2 ounces cubed Swiss cheese
1/2 pound sliced mushrooms
1 teaspoon lemon juice
1/4 cup dry white wine
1 cup chicken stock
1 cup chopped tomatoes
8 fresh basil leaves
Preparation
Pound chicken breasts lightly between sheets of plastic wrap. Sprinkle with salt and pepper. Wash and rinse spinach.
Heat half butter in saucepan or skillet. Add shallots. Cook briefly and then add spinach and nutmeg.
Cook until spinach is wilted and moisture has evaporated. Remove spinach from pan and cool.
In center of each chicken breast place equal portion of spinach along with cheese.
Fold sides of and then ends over the stuffing. Place the chicken in steamer and steam for 5 minutes.
Melt remaining butter in small pan. Add remaining ingredients and reduce to half. Serve over chicken. Garnish with basil leaves.