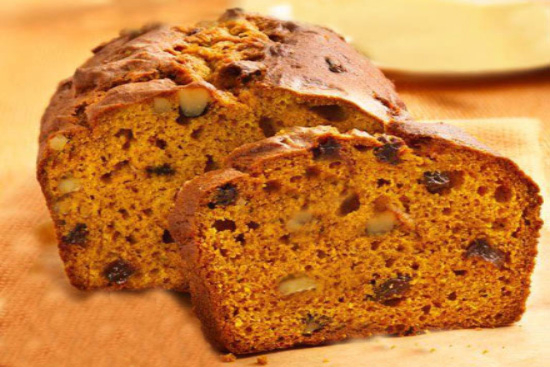 16

1 hour
Ingredients
1 1/2 cups sugar
1/2 cup oil
3 ounces water
2 eggs
1 cup canned pumpkin
1 3/4 cups flour
1 teaspoon baking soda
1/2 teaspoon salt
1/2 teaspoon cinnamon
1/2 teaspoon nutmeg
1/4 teaspoon cloves
1/4 cup chopped walnuts
1/4 cup raisins

TOPPING:
1/4 cup firmly packed brown sugar
1/4 cup finely chopped nuts
2 tablespoons flour
1/2 teaspoon cinnamon
2 tablespoons butter, softened.
Preparation
Preheat oven to 350 degrees. Grease and flour bottom only of one 9x5 inch loaf pan. In a large bowl, combine sugar, oil, water, eggs and pumpkin; beat 1minute at low speed. Add flour, soda, salt, cinnamon, nutmeg and cloves; blend at low speed until moistened then beat a minute at medium speed. Stir in nuts and raisins. Pour into prepared pan.
In small bowl, combine all topping ingredients until crumbly; sprinkle over batter. Bake for about one hour. Cool 5 minutes; remove from pan.
Cool completely on wire rack.