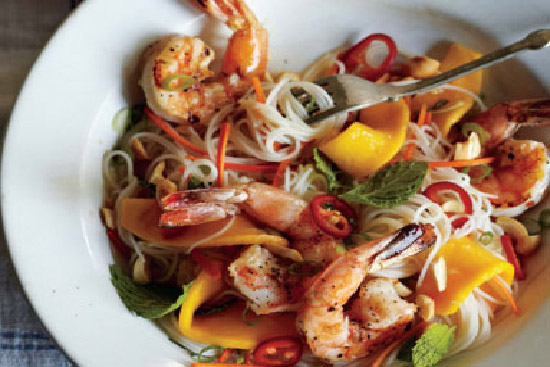 3

15 minutes
Ingredients
10 - 12 oz. (400-450 g) fresh Asian-style noodles OR fettuccine-style noodles
1 cup small cooked shrimp, thawed and drained if frozen
1 zucchini, grated with a wide grater or peeled into thin strips with a vegetable peeler
1 tomato, cut into small pieces
1 red or green chili, de-seeded and thinly sliced
1 red and 1 green bell pepper, de-seeded and cut into strips
3 spring (green) onions, sliced
1 cup fresh coriander/cilantro, lightly chopped
1/2 cup fresh basil, lightly chopped
1/3 cup dry roasted peanuts or cashews, unsalted, and left whole or lightly chopped
SALAD DRESSING:
1/3 cup lime juice (about 2 limes, juiced)
4 Tbsp. fish sauce (available at Asian/Chinese stores)
2 Tbsp. soy sauce
2-3 tsp. sugar (adjust to taste)
1-3 tsp. chili sauce OR 1/4 to 1/2 tsp. cayenne pepper OR crushed chili (adjust to taste)
2 cloves garlic, minced
Preparation
Prepare noodles according to the directions on the package. Rinse noodles with cold water, drain, and set aside.
Prepare salad dressing by mixing all dressing ingredients together in a cup or small bowl until sugar dissolves. Taste-test for sour/sweetness, adding more sugar as desired. Note that the taste of the dressing will be milder when distributed among the noodles.
Prepare the vegetables and shrimp, and place them in a very large salad or mixing bowl. Add the herbs and nuts. Stir the dressing once more and pour over, tossing well to mix.
Now add the noodles and toss again Once well-tossed, taste-test the noodles, adding more fish sauce if not salty or tasty enough.
You can serve this salad immediately, or cover and place in the refrigerator until ready to eat (this salad will keep for up to 3 days, and makes great workday lunches!).
Garnish with a few extra sprigs of the fresh herbs, plus some chopped peanuts. For extra spicy, Thai chili sauce can be served on the side, either store-bought or my own.