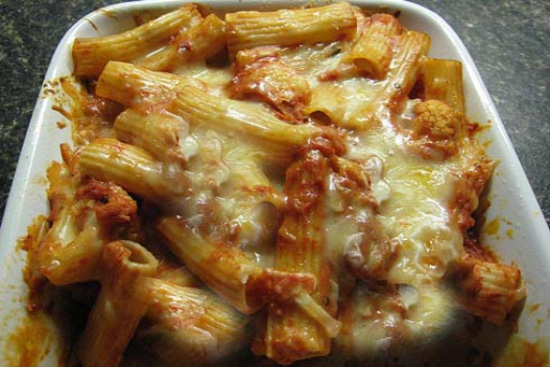 4

20 minutes
Ingredients
1/2 cup pine nuts
1/2 cup golden raisins
3 tablespoons olive oil
4 cloves garlic, peeled and minced
1 medium head cauliflower, rinsed and trimmed to 1-inch pieces
1/2 teaspoon red-pepper flakes
7 anchovy fillets, minced
3 tablespoons capers
1 cup white wine
coarse salt and freshly ground black pepper to taste
1 pound dried rigatoni
10 fresh basil leaves, very thinly sliced
roasted pepper, for garnish (recipe follows)


Preparation
1. Heat a large skillet over medium-high heat.
Add pine nuts, and toast, stirring frequently until golden brown, about 5 minutes. Set aside in a small bowl.
2. Place raisins in a small bowl. Cover with 1 cup warm water. Set aside to plump, about 10 minutes.
3. Heat olive oil in the same large skillet over medium-low heat. Sauté garlic and cauliflower until golden, about 5 minutes. Add pepper flakes, anchovies, capers, and wine. Simmer 2 to 3 minutes. Meanwhile, drain raisins, discarding water. Add raisins; season with salt and black pepper. Cook, covered, 10 to 12 minutes, until cauliflower is fork-tender. Uncover, and let liquid reduce slightly over high heat, 1 to 2 minutes.
4. Meanwhile, cook rigatoni in salted boiling water until just tender, about 10 minutes or following label instructions. Drain; toss into warm cauliflower mixture. Just before serving, toss pasta with basil and pine nuts. Garnish with roasted pepper.

ROASTED PEPPER
1 yellow or red bell pepper.
Heat a gas burner to high. Place pepper over flame. Roast until blackened all over, turning as necessary. Wrap pepper in a paper towel, enclosing completely. Let steam for 2 minutes. Unwrap, and peel blackened skin from pepper, using a paper towel. Discard skin. Stem and seed pepper.