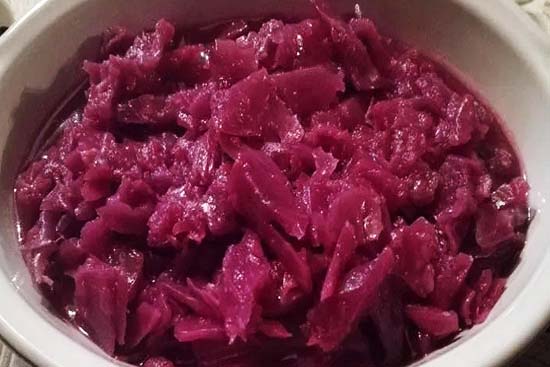 8

1 hour
Ingredients
1 tablespoon oil
1 medium onion, sliced
2 1/2 pounds head red cabbage
1 1/2 cups red wine vinegar
2 cups water
to taste, salt and pepper
Preparation
Quarter, core and shred cabbage. Rinse under cold water. Heat oil in a dutch oven.
Add onions and sauté for 2 to 3 minutes. Stir in cabbage. Add vinegar, water, salt and pepper. Bring to a bubble; lower heat to simmering. Cover.
Cook 15 minutes for crisp tender cabbage, or 1 hour for well done. Add water if necessary.
I cook the cabbage for over an hour. Use with pork and ham, roast goose, or as is.
Note: Sliced apples can be added to cabbage while cooking.