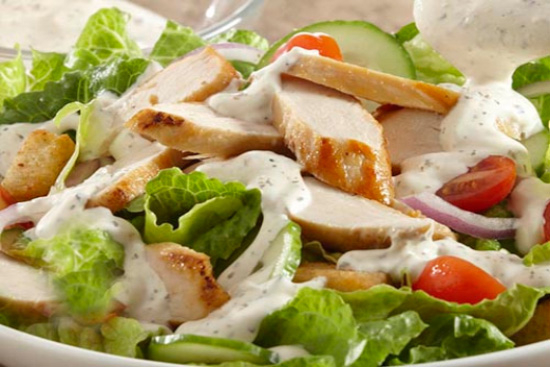 4

40 minutes
Ingredients
2 whole chicken breasts, on the bone, with the skin
salt and freshly ground pepper to taste
1 tablespoon olive oil

1 cup mayonnaise
1 cup fresh basil, finely chopped
2 garlic cloves, finely chopped
2 tablespoons pine nuts
4 large celery ribs, peeled and coarsely chopped
2/3 cup Parmesan cheese, freshly grated
1 bunch of watercress, large stems removed
Preparation
Preheat oven to 375 degrees. Season the chicken with salt and pepper. Place in a skillet with oil and roast until juices run clear, about 35 minutes. Let cool. Discard the chicken skin and remove the meat from the bones. Cut the chicken into small strips and transfer to a large bowl.
Puree the mayonnaise, basil, garlic and pine nuts. Add to the chicken with celery and cheese and toss well.
Season with salt and pepper and serve with watercress or arugula.