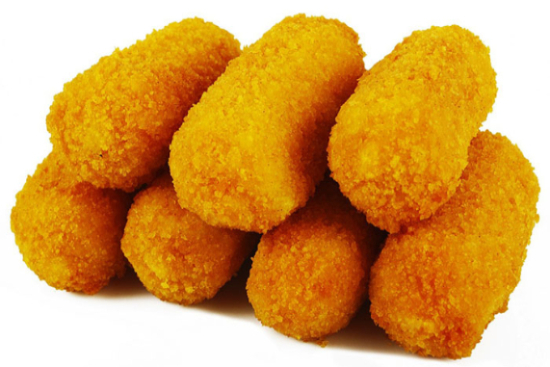 8

15 minutes
Ingredients
2 pounds potatoes
3 ounces butter, soft
4 egg yolks
to taste salt and pepper
1/4 teaspoon grated nutmeg

for breading:
3 eggs, beaten
2 tablespoons oil
1/2 cup flour
2 cups fresh breadcrumbs g
Preparation
Preheat oven to 375 degrees. Cut potatoes into large cubes. Boil in salted boiling water until tender. Drain well, and put through a ricer. Mix well and combine with butter, egg yolks, salt, pepper, and nutmeg. Mixture should be thick.
Cool the prepared mixture and shape into small logs, (1 inch round by 3 inches long).

Coat the logs in flour, dip and cover in beaten egg mixed with oil and roll in breadcrumbs.
Deep fry at 350 degrees F. until golden brown.