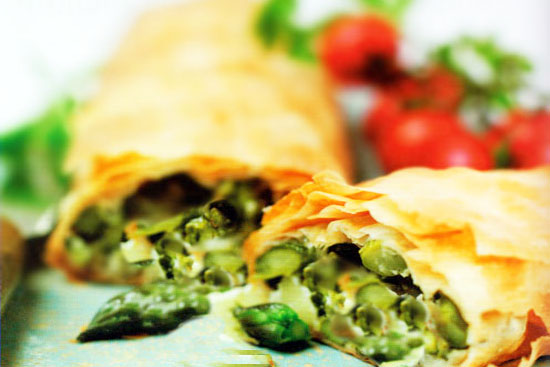 8

45 minutes
Ingredients
1 pound asparagus spears
2 medium leeks, white parts only
1 tablespoon chopped shallot
6 ounces melted butter
8 ounces grated Gruyère cheese
3 eggs
2 tablespoons chopped fresh parsley
2 tablespoons chopped fresh dill
2 tablespoons chopped fresh snipped chives
1 teaspoon salt
1/2 teaspoon fresh ground black pepper
dash cayenne pepper
12 sheets packaged phyllo pastry
Tomato coulis
Preparation
Trim and cut asparagus into 1-inch lengths. Blanch in salted boiling water for 3 minutes. Drain and chill in cold water. Drain on pat dry. Reserve in a bowl.
Slice leek across thinly and wash thoroughly. In a non-stick pan, melt 2 ounces of the butter. Sauté leeks and shallots in butter until transparent.
Add to the asparagus together with grated Gruyère cheese, eggs, chopped fresh parsley, chopped fresh dill, chopped fresh snipped chives, salt, fresh ground black pepper, and cayenne pepper.
Preheat oven to 350 degrees.
Lay 1 leaf of phyllo on work surface. Brush with melted butter. Continue until there are 6 buttered layers. Place half of the asparagus mixture along one short end, tuck ends in and roll up jelly-roll fashion. Place on a buttered baking sheet.
Make second strudel with remaining phyllo, butter and filling, and place on same baking sheet.
Brush rolls with any remaining butter. Bake for 40 to 45 minutes, until golden. Cool lightly and slice into 2-inch pieces. Serve as appetizer with fresh tomato coulis.