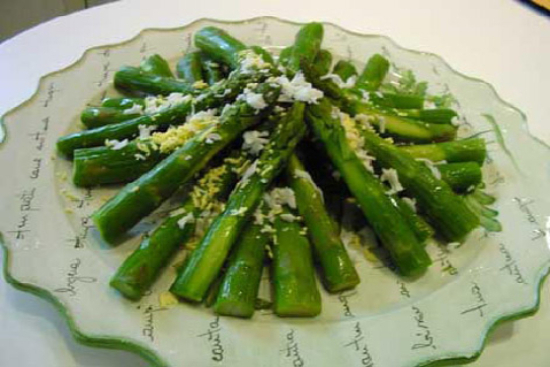 6

10 minutes
Ingredients
3 pounds fresh green asparagus
2 hard-cooked eggs, peeled
2 tablespoons chopped parsley
1 cup herb-vinaigrette dressing
Preparation
Peel and trim the asparagus.
Boil 4 quarts of water in a pot. Cook asparagus in boiling water for 5 to 7 minutes or until just tender.
Gently remove asparagus from boiling water and cool in ice cold water. Drain on paper towels, and set aside.
Separate egg yolks and whites. Wash egg whites in cold water. Drain on paper towel and set aside. Finely chop egg yolks; set aside in a small bowl. Chop egg whites and save in a bowl.
Arrange asparagus on a serving platter. Sprinkle egg yolk and egg white and parsley over asparagus.
Serve cold with the herb-vinaigrette.