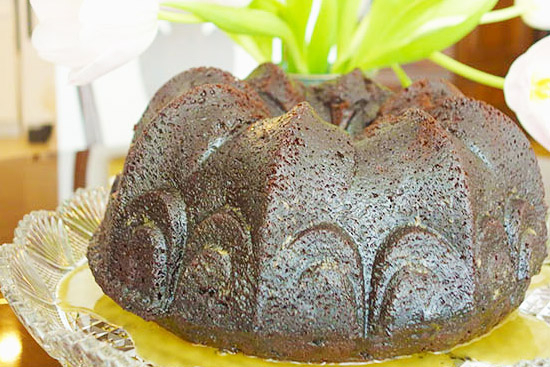 14

45 minutes
Ingredients
Cake:
2 cups all purpose flour
1 1/4 tsp baking soda
1/2 tsp. salt
1 1/2 cups strongly brewed coffee
1/4 cup plus 3 tbsp. Irish whiskey
1 cup unsalted butter, cut into pieces
1/2 tsp cinnamon
1 cup unsweetened cocoa powder
2 cups sugar
2 eggs
1 tsp vanilla extract

For the sauce:

1/2 stick (2 oz) unsalted butter, softened
1 cup packed light brown sugar
3/4 cup 15% light cream
1/4 cup Irish whiskey


Preparation
The cake
Preheat oven to 325 degrees.
Whisk together flour, baking soda and salt in a large bowl; set aside.
In a medium saucepan, add coffee, whiskey, butter, cinnamon, and cocoa powder. Place over moderate heat and whisk until butter has melted. Remove from heat and add the sugar. Whisk until incorporated. Pour mixture into a large bowl and let cool slightly.
Whisk together eggs and vanilla extract and gradually pour into chocolate mixture. Add flour mixture and whisk until just combined. Mixture will be very thin.
Pour batter into a greased and floured bundt pan.
Bake for 45-55 minutes.

The sauce:
In a heavy saucepan combine butter and brown sugar. Bring to a boil for 3 to 5 minutes until thick and bubbly. Add the cream, boil while stirring about 10 minutes or until slightly thickened. Remove pan from heat and stir in Irish whiskey . Sauce keeps, covered and chilled, 1 week. Reheat sauce before serving.

Turn the cake out and poke holes all over the surface and very slowly drizzle 1 1/2 cups of the sauce over the cake . Wrap in foil and let cool completely. Store in an air-tight container.