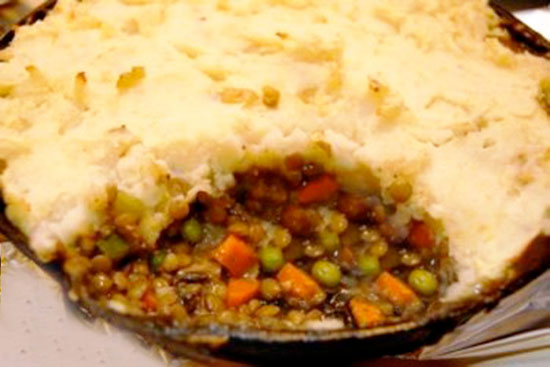 4

25 minutes
Ingredients
3/4 cup (175 mL) no-salt added vegetable broth
1 tbsp (15 mL) sodium-reduced soy sauce
1 tbsp cornstarch
1/2 tsp salt
1/4 tsp pepper
2 large russet potatoes, about 700 g total
2 tsp olive oil
1 pkg (227 g) button mushrooms, finely chopped
1 onion, finely chopped
1 carrot, finely chopped
1-1/2 tsp chopped fresh thyme
1 can (540 mL) lentils, drained and rinsed
1/4 cup chopped fresh parsley
1/4 cup (60 mL) milk
2 tbsp butter
1/2 tsp grainy mustard
Preparation
In small bowl, whisk together broth, soy sauce, cornstarch and half each of the salt and pepper until smooth. Set aside.

Using fork, prick potatoes all over. Microwave on high, turning once, until fork-tender, 8 to 10 minutes. Set aside until cool enough to handle.

Meanwhile, in large skillet, heat oil over medium-high heat; cook mushrooms, onion, carrot and thyme, stirring occasionally, until softened and no liquid remains, 6 to 8 minutes. Stir in lentils; cook for 1 minute.

Stir in broth mixture; cook, whisking, until slightly thickened, about 2 minutes. Stir in 3 tbsp of the parsley. Scrape into 6-cup (1.5 L) casserole dish.

Peel potatoes. Using potato masher, mash together potatoes, milk, half of the butter and the remaining salt and pepper. Stir in remaining parsley and the mustard. Spoon over mushroom mixture, spreading to edge; dot with remaining butter. Broil on centre rack until top is golden, 3 to 5 minutes.