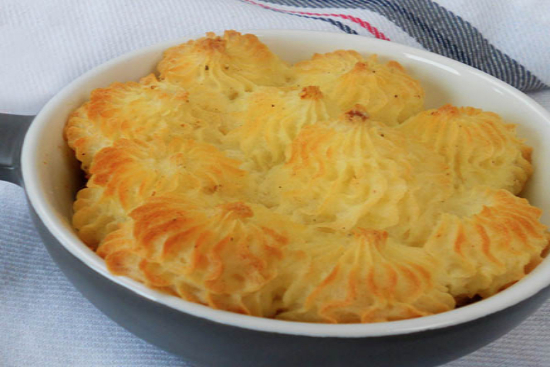 8

45 minutes
Ingredients
2 tablespoons olive oil
2 medium onions, chopped
2 cloves of garlic, chopped
2 pounds ground lean beef
2 tablespoons tomato paste
1 tablespoon Worcestershire sauce
3 tablespoons brown sauce mix
1 cup water
1 1/2 teaspoons salt
1/2 teaspoon ground black pepper
1 cup diced cooked carrots
1 cup blanched peas
8 cups freshly mashed potatoes
1 cup grated Swiss cheese, for topping
2 tablespoons butter
Preparation
Preheat oven to 400 degrees.
Make mashed potatoes.
Heat oil in a heavy skillet. Add onion, ground beef, and garlic.
Stir and cook over high heat until meat is brown. Add Worcestershire sauce, tomato paste, brown gravy mix ( such as Knorr brown sauce mix), water salt, pepper, cooked peas and cooked diced carrots. Cook over low heat for 10 minutes.
Spread mixture over a large buttered oven-proof casserole dish. Cover with creamy mashed potatoes.
For a nice presentation, Pipe the mashed potato over meat, using a pastry bag fitted with a large star tube.
Sprinkle with grated Swiss cheese. Spoon melted butter over cheese. Baked at 400 degrees until golden brown.