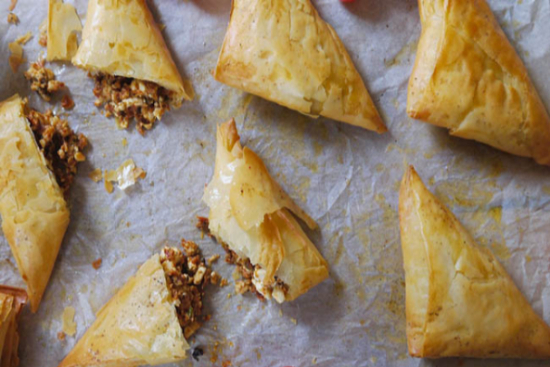 12

15 minutes
Ingredients
3/4 cup crumbled feta
4 ounce pkg creamy goat cheese, about 3/4 cup crumbled
3 oil-packed sun-dried tomato halves
1/4 cup finely chopped chives or 2 green onions, thinly sliced
1/4 cup finely chopped fresh oregano or 2 teaspoons dried leaf oregano
1/4 teaspoon freshly ground black pepper
1/4 teaspoon cayenne (optional)
8 sheets phyllo dough
1/2 cup melted butter
Preparation
Preheat oven to 375F. If feta is packed in liquid, rinse with cold water. Pat dry. Crumble into a measuring cup. Place in a medium-size bowl along with goat cheese. Finely chop tomatoes. They should measure 1/2 cup . Add to cheeses. Stir in chives, oregano, salt, pepper and cayenne, if using, just until evenly distributed.
Place a sheet of phyllo in front of you on a flat dry surface. Keep remainder of phyllo covered with a damp cloth to prevent it from drying out. Lightly brush phyllo with butter. Place another sheet on top. Brush lightly with butter. With a sharp knife, divide sheets into 12 squares by making 2 cuts lengthwise and 3 cuts crosswise. Place a rounded teaspoon of filling on each square. Gather up sides and pinch together above filling. Repeat until phyllo and filling are used up.
Place kisses on a lightly greased baking sheet. Bake in centre of 375F oven until golden and crispy, about 10 minutes. Serve warm.