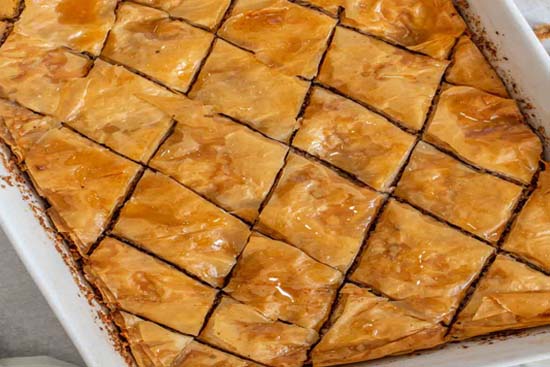 12

40 minutes
Ingredients
8 ounces clarified butter
18 phyllo leaves
2 cups finely chopped walnuts
1/2 cup sugar
1 teaspoon lemon juice
1/4 cup water
1/4 cup honey
Preparation
Preheat oven to 350 degrees. Select a baking pan the size of the phyllo leaves.
Spread 2 phyllo leaves over the bottom of pan. Brush with butter. Sprinkle with walnuts.
Repeat the same process with the remaining ingredients ending with filo leaves.
Cut the top with a sharp knife about 1/2 -inch deep to make 1 1/2 -inch squares or diamonds.
Bake for 40 minutes. In a saucepan combine, sugar, water, lemon juice and honey.
Boil for 5 minutes and pour over the whole surface of cut baklava.