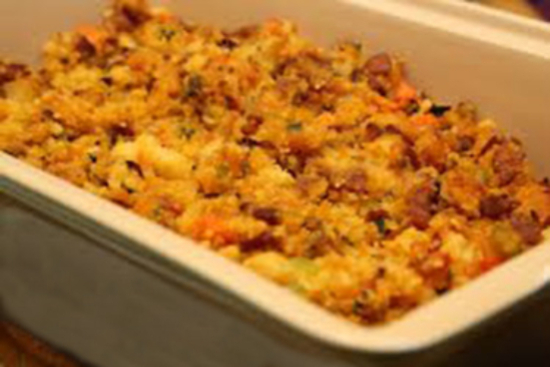 10

50 minutes
Ingredients
1 cup finely chopped celery
1/2 cup chopped onion (1 medium)
1/2 cup butter
1/2 cup chopped, cooked poultry giblets*
1 teaspoon poultry seasoning or ground sage
1/4 teaspoon pepper
1/8 teaspoon salt
4 cups dry bread cubes
4 cups dry corn bread cubes
1 to 1-1/3 cups chicken broth or water

Preparation
In a frying pan cook celery and onion in butter until tender; remove from heat. Stir in giblets, poultry seasoning or sage, pepper and salt.

In a large mixing bowl place dry bread and corn bread cubes; add the onion mixture. Drizzle with enough broth or water to moisten, tossing lightly to mix.
Transfer to a 2-quart casserole. Cover and bake in a 325 degree F oven for 40 minutes or until heated through.
Or, use to stuff a 10- to 12-pound turkey; see directions for Classic Roast Turkey.)

*Note: To cook giblets: Rinse giblets and neck. Refrigerate liver until needed. In a medium saucepan place the remaining giblets and neck. Add enough lightly salted water to cover. Bring to boiling. Reduce heat, cover and simmer for 1 hour. Add liver and simmer 20 to 30 minutes or until tender. Remove giblets and finely chop. Discard neck. Strain broth. Chill giblets and broth until needed.