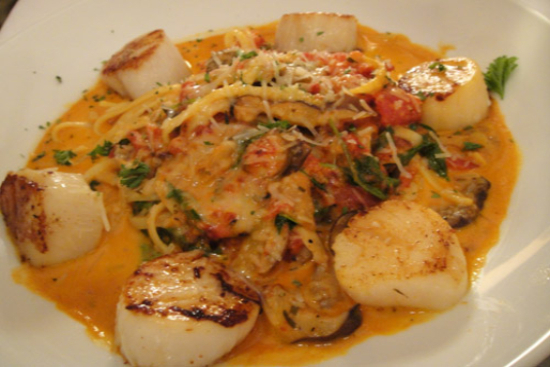 8

40 minutes
Ingredients
2 red peppers
2 (10 oz) cans condensed chicken broth
4 inch (10 cm) piece fresh unpeeled ginger, thinly sliced, about 1 cup (250 mL)
6 to 8 stalks lemongrass, about 2 bunches
2 cups container whipping or table cream
2 tablespoons cornstarch
1/4 cup cold water
2 tablespoons freshly squeezed lemon juice (optional)
1 tablespoon salt
1 pound bay or sea scallops
1 pound frozen or defrosted, raw shelled medium-size shrimp
2 pounds fettuccine
1 tablespoon ( 15 ml) each of butter and vegetable oil
Preparation
1. Preheat oven to 450F (230C). Slice peppers in half and remove seeds.
Place cut-side down on a baking sheet lined with foil. Roast, uncovered, until peppers are partially charred, from 15 to 20 minutes. Remove from oven, pull up edges of foil, wrap around hot peppers and seal. Set aside to cool.
2. Meanwhile, pour broth into a wide saucepan. Add ginger. Thinly slice root ends from lemongrass and discard. Remove any dried outer leaves. Pound stalks to flatten slightly. Slice into 1/2-inch (1-cm) pieces. Add to broth. Place over high heat. When boiling, reduce heat to medium or medium-high so broth gently boils. Boil, uncovered, until reduced to 1 cup (250 ml). This should take at least 20 minutes. Broth will taste very strong. Saving broth, strain and discard ginger and lemongrass.
3. Return broth to saucepan set over medium-high heat. Add cream. In a small dish using a fork, stir cornstarch with water to form a smooth paste. Whisk into hot cream broth and whisk almost constantly until thickened, from 3 to 4 minutes. Taste and stir in lemon juice, if you like. Cover and remove from heat. If making ahead, refrigerate in a sealed jar for up to 2 days.
4. About 15 minutes before serving, bring a large pot of water and salt to a boil. If using sea scallops, slice in half. Rinse frozen shrimp with cold water to remove clinging ice crystals. Then drain and pat dry. Prepare roasted peppers by draining juice accumulated in foil into a small bowl. Peel off charred skins and discard. Slice peppers into bite-size strips and add to juice. Set aside.
5. When water is boiling rapidly, add pasta and cook, uncovered and stirring occasionally, until al dente, from 8 to 10 minutes. Meanwhile, heat oil and butter in a wide frying pan set over medium- high heat. Add seafood and stir-fry until scallops are lightly browned and shrimp are bright pink, about 4 minutes. Stir in peppers and juice. Drain pasta well. In a large bowl, stir pasta with cream sauce until coated. Place in pasta bowls and spoon seafood mixture over top.