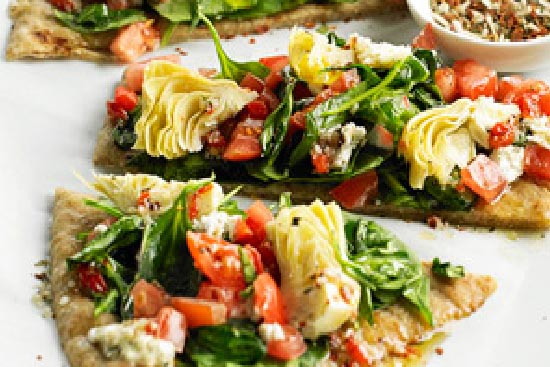 2

15 minutes
Ingredients
2 6-inch diameter whole wheat pita breads
1 6.5 ounce jar marinated artichoke hearts
1 1/2 cups crumbled feta cheese
1 14.5- ounce can diced tomatoes with Italian herbs, drained well
1 cup pitted Kalamata olives, coarsely chopped
2 teaspoons dried oregano
Preparation
Preheat oven to 450 degrees.
Cut pita bread in half horizontally. Drain artichokes, reserve marinade, and cut any large pieces in halves. Place breads on large baking sheet.
Brush breads with some of artichoke marinade. Bake until just beginning to color. Cool on sheets. Sprinkle breads almost to edges with crumbled feta cheese.
Top with tomatoes, olives, oregano and artichokes. Drizzle with remaining artichoke marinade.
Bake pizzas until heated through, about 4 minutes. Cut into wedges.