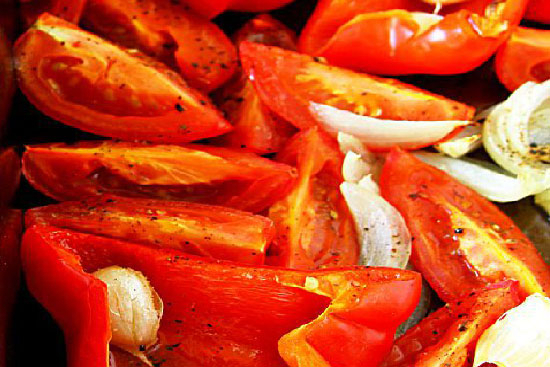 8

2 hours
Ingredients
2 1/2 pounds firm, ripe roma or plum tomatoes (about 15)
1 whole head of garlic
3 sweet red peppers
1/2 teaspoon each hot pepper flakes and salt
1/3 cup olive oil
Preparation
Immerse tomatoes in large saucepan boiling water 10 seconds or until skins losen. Drain, then chill under running water. Remove core and slip off skins.
Cut tomatoes in half horizontally; squeeze tomatoes gently between hands to extract juice and seeds.
Place tomato flesh in 9-by-13in non metallic baking dish. Break head of garlic into individual cloves; peel cloves and add to tomatoes. Cut peppers in half and remove seeds and white membranes. Cut peppers into 1 1/2-in strips; add to tomatoes. Add olive oil to tomato mixture, tossing to coat ingredients well.
Spread ingredients out in single layer; sprinkle with hot pepper flakes and salt. Roast in 350 degree oven 1 1/2 to 2 hours or until tomatoes are shiny and reduces in volume by about half and no liquid remains in dish. Serve at once or spoon into hot sterilized jars and cover tightly. Refrigerate for up to 1 week or freeze for up to 1 month.
This irresistible appetizer captures the essence of summer in a jar. Serve it as part of an antipasto platter or use it to top crusty bread for instant bruschetta.