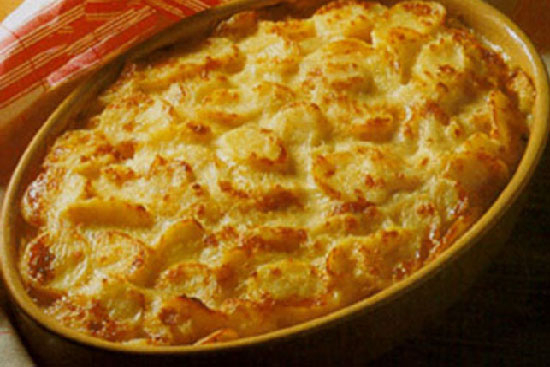 8

45 minutes
Ingredients
1 tablespoon butter
2 pounds potatoes
4 cloves minced garlic
3/4 cup milk
2 cups heavy cream
2 cups grated Swiss cheese (Gruyere or Emmenthal)
to taste salt and pepper
Preparation
Preheat oven to 375 degrees.
Butter a baking dish about 6 by 10 inches. Peel potatoes and cut into 1/4-inch slices.
Blanch potatoes in salted boiling water for 5 minutes. Drain well.
In a large mixing bowl, combine potatoes, garlic, milk, cream and half of the grated cheese, salt and pepper to taste.
Spoon into prepared dish. It should be no more than 3/4 full. Sprinkle evenly with cheese. Bake for about 45 minutes, or until potatoes are tender and gratin is golden brown.