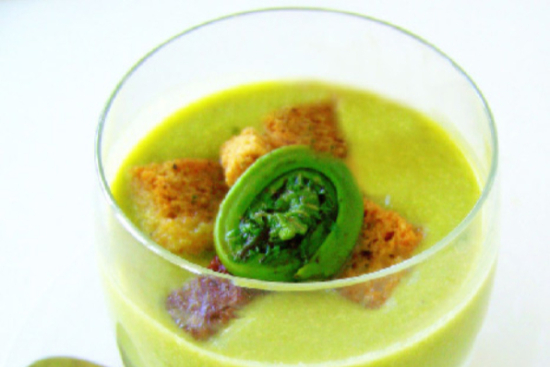 4

30 minutes
Ingredients
the soup:
3 medium potatoes, peeled, and cut into 1/2-inch cubes
3 cup chicken broth
1/4 cup heavy cream
to taste salt and pepper

the garnish:
2 tablespoons olive oil
2 garlic cloves, peeled and minced
6 thick slices of Italian bread, cut into 1/4-inch cubes
3/4 cup fiddleheads, trimmed and cleaned, blanched until tender
4 tablespoons shaved parmesan cheese
Preparation
Peel potatoes and cut into 1/2-inch cubes.
Cook the potatoes in chicken broth and cream. Season with salt and pepper. Puree in a mixer.
Garnish:
Heat olive oil in a skillet. Add the garlic and cook a few seconds. Add the bread cubes and cook until golden and crisp.
Ladle the soup among the 4 plates or bowls. Garnish with fiddleheads, croutons, and Parmesan shavings. Serve hot.