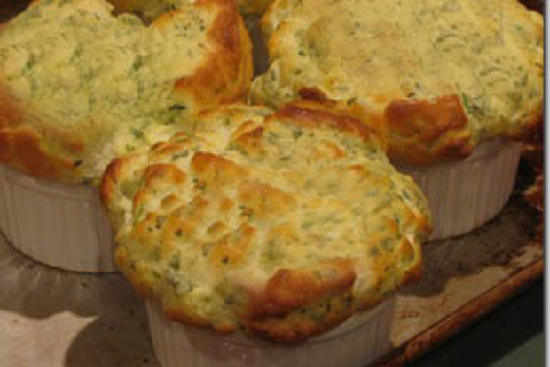 6

40 minutes
Ingredients
1 tablespoon butter, soft
1 tablespoon flour
2 cups 1-inch pieces asparagus tips and tender stems
4 tablespoons (1/2 stick) butter
1/2 cup flour
2 cups milk
1/2 teaspoon salt
1/4 teaspoon ground white pepper
1/4 teaspoon freshly ground nutmeg
5 eggs
1 cup grated imported Parmesan cheese
1/4 teaspoon cream of tartar
Preparation
Preheat the oven to 400 degrees.
Brush the interior of 2 4-cup soufflé molds with the softened butter. Dust the bottom and sides with flour. Set aside.
Bring a kettle of salted boiling water to a boil, drop in the pieces of asparagus, and cook until tender. Drain and cool under cold running water. Purée in a blender. Save in a bowl, cover and set aside.
In a heavy saucepan melt the butter. Stir in the flour with a wooden spoon and cook over low heat for 3 minutes. Add the milk. Cook over medium-high heat while whisking until sauce becomes thick and bubbly.
Transfer the sauce to a large mixing bowl. Season with salt and pepper and nutmeg.
Separate the eggs. Mix egg yolks and cheese in the thick cream sauce. Stir in the asparagus purée. (can be prepared 2 hours in advance up to this point.)
In an electric mixing bowl, whip the egg whites with cream of tartar until the whites are firm fluffy. Using a rubber spatula, gently fold the whites into the cheese mixture.
Pour soufflé mixture into mold.
Bake for 30 to 40 minutes. Reduce the oven temperature to 350 degrees F. after 10 minutes Soufflé should rise two inches or more above mold. Serve when ready.
I serve cheese soufflé with tomato basil sauce or melted brie.