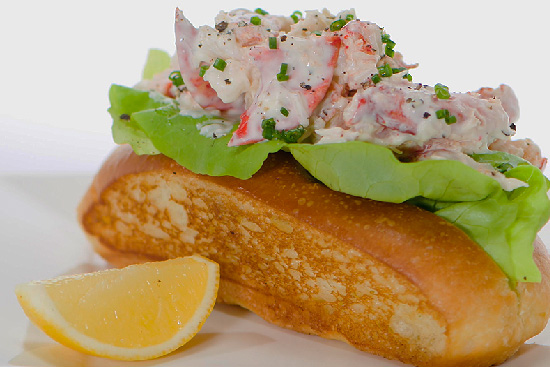 4

12 minutes
Ingredients
2 lb freshly boiled and shelled lobster. (See how to boil lobsters here)
2 tbsp mayonnaise
1 tbsp lemon juice
1/2 stalk celery very finely chopped
4 toasted brioche buns or hot dog style buns.
Salt
Pepper
chives or tarragon.
Preparation
Boil fresh lobsters, see details below and then take all the meat out of the tail shell, claws, and knuckles. Avoid the frozen version as it can be somewhat chewy.

Wash the celery, and chop it up into small little pieces. Then roughly chop up the lobster meat into bite sized pieces, the chunkier the better.

Mix the chopped lobster meat with the mayonnaise, finely chopped celery, lemon juice, salt and pepper into a bowl and mix thoroughly. Taste the lobster filling and adjust the seasoning as needed.

Get your lobster roll buns ready. Top the rolls/bun with a heaping portion of lobster. Garnish the lobster roll with some freshly chopped chives or tarragon. The lobster rolls are best served immediately, though you can easily make the lobster filling ahead of time and keep it in the fridge for a day or two, then assemble sandwiches as needed.

How long do I boil lobster for?
As a rule of thumb you want the pot to be large enough to completely cover the lobsters with at least 2 inches of water.
In a large Bring the water to a boil and add about 1 tbsp of salt per liter of water, better yet use fresh seawater for best results.
Add the live lobsters to the boiling water and then bring the pot back to a boil as quickly as possible. Reduce the heat to a simmer, and cook the lobsters for 10 to 12 minutes.


As a general rule of thumb you should boil lobster for 7 minutes per pound. This is based on the lobster size though and not the combined total weight. So if you are cooking 1.5 lb lobsters you should simmer them for about 11 minutes, if you are cooking 2 lb lobsters 14 minutes and so on.