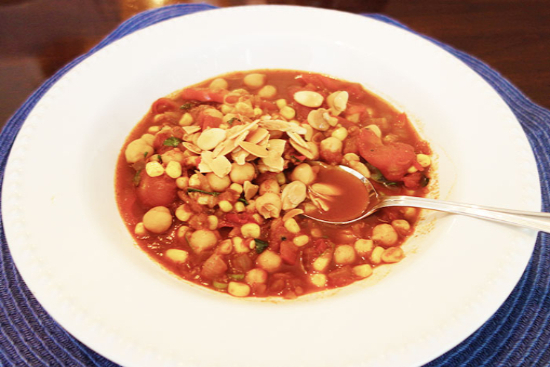 4

15 minutes
Ingredients
3 Tbs. extra-virgin olive oil
3 medium cloves garlic, minced
1 large red onion, finely chopped
Kosher salt
1 to 2 Tbs. hot paprika
1 Tbs. chili powder
1 Tbs. ground cumin
1 28-oz. can whole peeled tomatoes
2 15-oz. cans chickpeas, drained and rinsed
2 cups fresh (or frozen) corn kernels (from about 4 medium ears)
1 medium red bell pepper, quartered, cored, and thinly sliced crosswise
1 medium jalapeño, thinly sliced crosswise into rounds
1/2 cup sliced or slivered almonds
1/4 cup small basil leaves
6 scallions (white and light-green parts only), thinly sliced; more for garnish
Sour cream, for serving (optional)
Preparation
Heat 2 Tbs. of the oil in a 5- to 6-quart heavy-duty pot over medium-high heat until shimmering hot, about 2 minutes. Add the garlic and onion, season with 1 tsp. salt, and cook, stirring occasionally, until the onion begins to soften, 3 to 5 minutes. Stir in the paprika, chili powder, and cumin, cook for 1 minute, and then add the tomatoes and their juice. Stir, smashing the tomatoes against the side of the pot to break them up slightly. Add 2 cups water and bring to a simmer. Stir in the chickpeas, corn, bell pepper, jalapeño, and 1 Tbs. salt and cook until the peppers have lost their raw crunch, 8 to 12 minutes (at this point, if the chili looks too thick, add an additional 1 cup of water).

While the vegetables cook, heat the remaining 1 Tbs. olive oil in an 10-inch skillet over medium-high heat. Add the almonds and cook, stirring constantly, until goldenbrown, 2 to 3 minutes. Using a slotted spoon, transfer them to a plate lined with paper towels and immediately season them with 1/2 tsp. salt.

Stir the basil and scallions into the chili. Serve the chili with a dollop of sour cream (if using), more scallions, and the almonds.