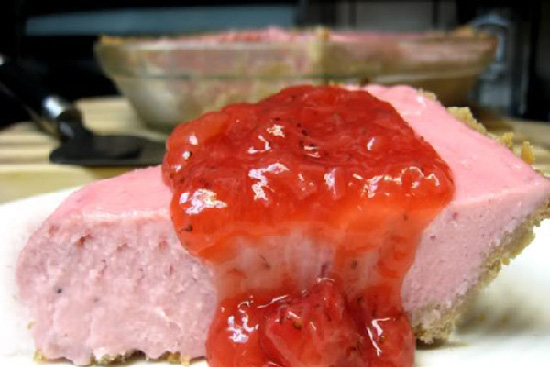 12

1 hour
Ingredients
2 cups sugar cookie crumbs
4 tablespoons butter, melted
1 cup strawberries, hulled and coarsely mashed
1 tablespoon sugar
1 teaspoon fresh lemon juice
2 8-ounce packages cream cheese
1 cup sugar
1 teaspoon vanilla
8 ounces sour cream
4 large eggs
Rhubarb Sauce:
1 pound rhubarb
1 cup sugar
1/4 cup water
1 teaspoon lemon juice
Preparation
Combine rhubarb, sugar, water and lemon juice. Bring to boil; reduce heat and simmer until very tender. Cool slightly. Purée in food processor or blender and refrigerate.
Preheat oven to 350 degrees. Combine cookie crumbs and melted butter. Press into the bottom and up the sides of a 9 inch springform pan. Bake 5 minutes.
Remove from oven and cool. Stir together the mashed strawberries, 1 tablespoon sugar and the lemon juice. Beat cream cheese, sugar, vanilla and sour cream together until smooth. Beat in eggs, one at a time. Swirl in strawberries with a spoon, being careful not to mix too much. Pour into prepared crust. Bake 1 hour or until the edges are puffed and set and the center does not move anymore when slightly shaken. Cool in the pan on a rack.
Refrigerate. To serve, wet a knife in warm water and run around the edge between the cake and the outer ring. Remove the ring. Serve in wedges with Rhubarb Sauce.