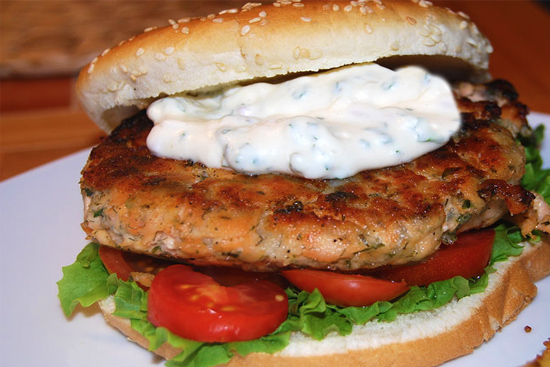 4

10 minutes
Ingredients
2 small cloves garlic
salt
1-1/2 cups mayonnaise
1/3 cup finely chopped fresh chives
2 Tbs. finely chopped fresh dill
1-1/2 Tbs. Dijon mustard
1 Tbs. fresh lemon juice
1/8 tsp. cayenne
Freshly ground black pepper

5 brioche, hamburger or Kaiser buns, 1 cut into large cubes, the other 4 split
1 lb (2 cups) skinless salmon fillets, skinned and boned, cut into 1-inch pieces
2 oz. (4 Tbs.) unsalted butter


Preparation
Mash and chop the garlic with a pinch of salt. Transfer the garlic to a small bowl and stir in the mayonnaise, chives, dill, mustard, lemon juice, cayenne, 1/4 tsp. pepper, and salt to taste. Set the aïoli aside.

In a food processor, pulse the cubed bun into crumbs. Set aside 1/2 cup of the crumbs and save the rest for another use. Pulse the salmon until coarsely chopped, about 5 pulses. Transfer the salmon to a medium bowl and stir in 3/4 cup of the aïoli, the reserved breadcrumbs, 1/4 tsp. salt, and 1/8 tsp. pepper. Shape into four 1-inch-thick patties.

Heat 2 Tbs. of the butter in a 12-inch nonstick skillet over medium-high heat. When melted and hot (but not smoking or brown), add the patties and cook until they are firm and each side is crisp and golden-brown, 3 to 5 minutes per side.

Brush melted butter on the insides of the split buns. Put the buns on a baking sheet, butter side up, and toast under the broiler until light golden brown, 1 to 2 minutes.
Serve the burgers on the buns, spread with the remaining aïoli.

Serve with Spinach Salad.