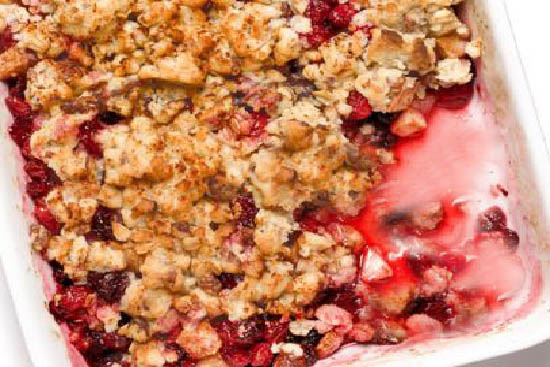 10

50 minutes
Ingredients
Topping:
1 1/4 cups quick cooking rolled oats
1 cup packed dark brown sugar
3/4 cup flour
1 teaspoon ground cinnamon
1 teaspoon ground cardamon
1/4 teaspoon salt
3/4 cup unsalted butter, softened
3/4 cup sliced almonds
4 pounds tart apples, peeled, quartered, cored and sliced
3 cups cranberries
2/3 cup granulated sugar
1 tablespoon flour
vanilla ice cream
Preparation
Preheat oven to 375 degrees.
Butter a 13-by-9-by-2 inch baking dish or a 3-quart baking dish, 2-inch deep. In a bowl, combine the oats, brown sugar, flour, 1/2 teaspoon cinnamon, 1/2 teaspoon cardamon, and salt.
Add butter and mix all ingredients until crumbly. Mix in the almonds. In a large bowl, combine apples, cranberries and granulated sugar. Mix in 1 tablespoon flour and remaining cinnamon and cardamon. Mix well. Transfer to the prepared dish.
Spread the oat mixture evenly over fruit. Bake until the topping is golden brown and the apples are tender, about 50 minutes.
Serve warm or at room temperature with ice cream.