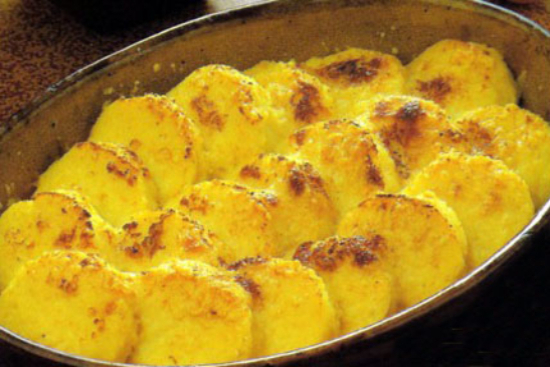 8

30 minutes
Ingredients
1 quart milk
3 ounces butter
1/2 teaspoon salt
1/4 teaspoon ground white pepper
1/4 teaspoon grated nutmeg
1 cup polenta
2 eggs
3 egg yolks
1/2 cup grated Swiss cheese
1 cup A recipe of Cream sauce
1/2 cup grated Parmesan
Preparation
In a saucepan, combine the milk, butter, salt, pepper, nutmeg, and polenta. Cook slowly over medium heat for 8 to 10 minutes while stirring continuously.
Stir in the eggs and egg yolks. Continue cooking for a minute while stirring with a wooden spoon. Mix in the cheese.
Line an 8-inch by 14-inch pan with wax paper or parchment paper. Spread the mixture in pan evenly. Cover with parchment paper and refrigerate mixture until set.
Preheat oven to 400 degrees.
Unmold on a cutting board and cut into 3-inch squares. Arrange in a buttered baking dish. Pour cream sauce over and sprinkle with Parmesan cheese. Brown in oven. Serve hot.
* If polenta is not available, substitute 1 cup regular yellow cornmeal, and cook mixture for about 10 minutes rather than 20 minutes.