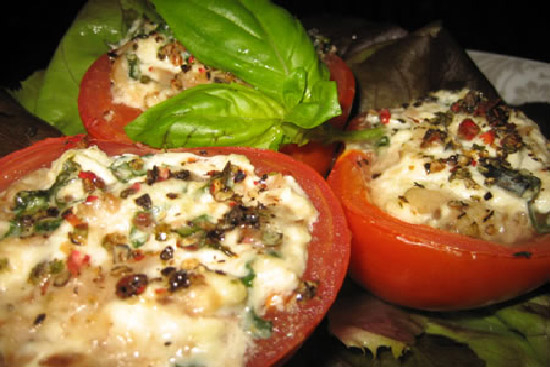 4

15 minutes
Ingredients
4 medium tomatoes, firm
10 ounces fresh goat cheese
fresh ground pepper, to taste
1 large egg
1 egg yolk
1 tablespoon fresh basil, chopped
3 tablespoons bread crumbs
1/4 cup Parmesan cheese, grated
Preparation
Preheat oven at 400 degrees.
Slice stem end off tomatoes. Scoop out seeds and some meat. Place tomatoes upside down on paper towels to drain liquid.
Soften goat cheese. Season with pepper. Add eggs and basil. Mix well. In another bowl, combine bread crumbs and cheese.
Fill tomatoes with goat cheese mix.
Sprinkle Parmesan mixture on top. Bake on oiled cookie sheet for 10 minutes. Broil to brown.