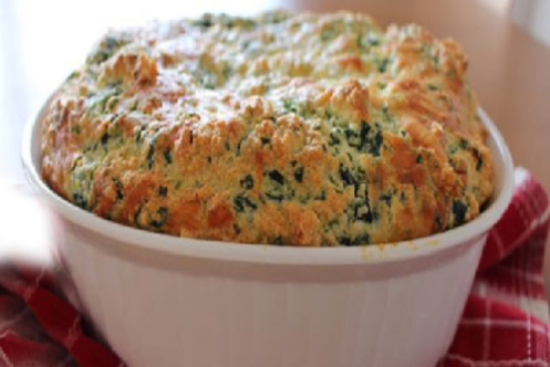 8

40 minutes
Ingredients
3 tablespoons butter
3 tablespoons flour
2 cups milk
1/2 teaspoon salt
1/4 teaspoon white pepper
5 eggs
1 cup Swiss cheese, grated
1 cup cheddar cheese, grated
2 cups fiddleheads, cooked and chopped
1/4 teaspoon cream of tartar
1 ounce butter
1 ounce flour
Preparation
Preheat oven to 350 degrees.
In a heavy saucepan, melt butter. Stir in the flour, then add the milk. Cook while whisking until sauce becomes thick. Season with salt and pepper.
Separate the eggs. Mix the yolks and cheeses in the thick cream sauce. Fold in the fiddleheads.
Whip the egg whites and cream of tartar until firm. Gently fold in the cheese-fiddlehead mixture.
Butter 2 7-inch soufflé molds. Coat with flour. Shake any excess out. Pour souffle mixture into molds. They should be 3/4 full.
Bake 30 to 40 minutes.
You may serve this souffle with cheddar cheese sauce.