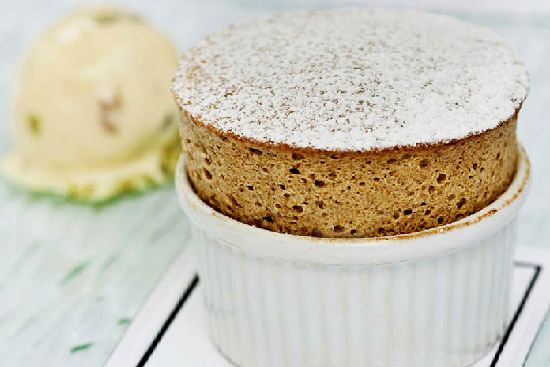 6

15 minutes
Ingredients
6-6 ounce soufflé molds
1 teaspoon sugar
1 teaspoon soft butter
1 cup pitted prunes
1 cup water
1 teaspoon Brandy (optional)
1 teaspoon grated lemon rind
1/2 cup chopped walnuts, or pecans
4 egg whites
1/4 cup sugar
1/4 teaspoon cream of tartar
Preparation
Preheat oven to 375 degrees . Butter the inside of the small soufflé molds. Coat with sugar. Do not touch the inside. In a medium pot, stew the prunes in water, Brandy (optional), and lemon rind until the moisture is evaporated by half. Purée the prunes in a food processor. Transfer to a medium mixing bowl. Mix in the chopped nuts. Set aside to cool at room temperature. (can be prepared 2 hours in advance up to this point.)
In an electric mixing bowl, whip the egg whites with the cream of tartar. When they reach a soft peaks, gradually add the sugar, and continue beating until the whites are firm and fluffy.
Fold the egg whites into the prune mixture . Fill the mold with the soufflé mixture. Level the soufflé mixture with a spatula. Bake on a baking sheet for 12 to 15 minutes.
Note:
You may also us 1/2 prunes 1/2 dried apricots.
Also, soak prune in tea. Then Armagnac.