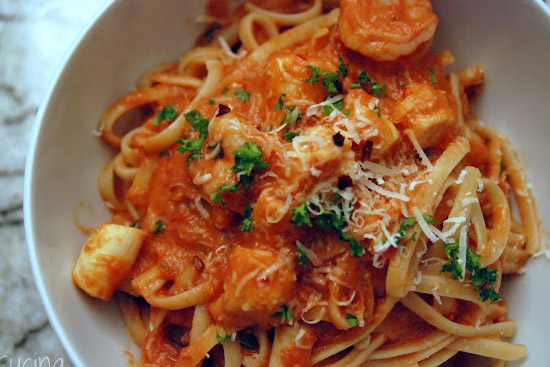 4

15 minutes
Ingredients
7 oz (225 g) whole wheat penne or linguine
2 tsp olive oil
3 shallots, chopped
2 leeks, (white and light green parts only halved lengthwise and thinly sliced crosswise
3 cloves garlic, minced
2 cups (500 mL) no-salt-added canned diced tomatoes
1 tsp dried oregano
Pinch each hot pepper flakes, salt and pepper
6 oz (170 g) frozen scallops, (about 10) thawed and halved
6 oz (170 g) frozen jumbo shrimp, (about 8) thawed, peeled, deveined and cut in half lengthwise
6 cups (1.5 L) packed baby spinach
1/3 cup (75 mL) grated parmesan cheese
1/4 cup (60 mL) chopped fresh basil
Preparation
In large pot of boiling water, cook penne according to package directions. Drain, reserving 1/4 cup of the cooking liquid.

Meanwhile, in large nonstick skillet, heat oil over medium heat; cook shallots, leeks and garlic, stirring occasionally, until softened, about 5 minutes. Stir in tomatoes, oregano, hot pepper flakes, salt and pepper; simmer for 5 minutes.

Add scallops and shrimp; cook, stirring occasionally, until shrimp are pink and scallops are opaque, about 3 minutes.

Stir in pasta and spinach; cook until spinach is wilted, about 2 minutes. Stir in enough of the reserved cooking liquid to coat; transfer to serving platter. Sprinkle with Parmesan cheese and basil.