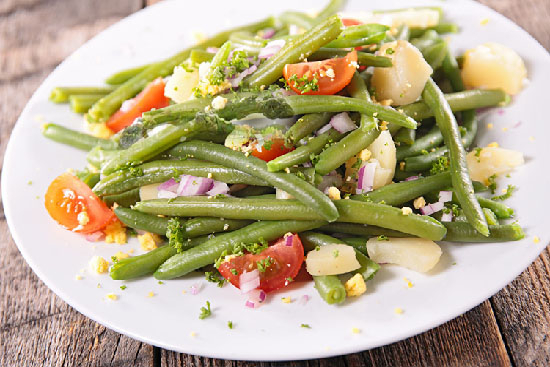 4

12 minutes
Ingredients
1/2 pound green beans (1-inch length)
1 pound cooked asparagus
2 cooked artichoke bottoms
2 tablespoons snipped chives
1 tablespoon minced parsley
1 tablespoon minced chervil
1 tomato
1 avocado
sherry vinegar mayonnaise
Preparation
Cut green beans into 1-inch lengths.
Cook in boiling salted water until tender. Drain.
Cut asparagus into 1-inch lengths.
Cut each artichoke bottom into 6 wedges.
Combine beans, asparagus, artichokes, chives, parsley and chervil with enough mayonnaise to coat.
Peel and thinly slice the tomato.
Peel, pit and thinly slice the avocado.
Arrange the salad on four lettuce lined plates and garnish with tomato and avocado.