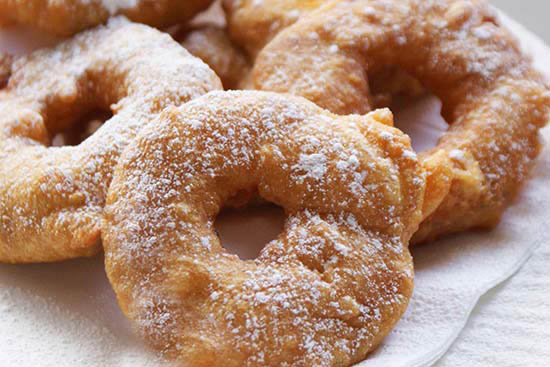 6

40 minutes
Ingredients
1 cup all-purpose flour
2 Tbsp granulated sugar
1 1/2 tsp baking powder
1/4 tsp salt
2/3 cup milk
1 egg yolk
1 Tbsp unsalted butter, melted (unsalted or salted)
2 egg whites

4 medium apples (Golden delicious, Granny Smith, McIntosh or honey crisp) peeled, cored and sliced into 1/4" rings
3 Tbsp lemon juice, juice
Canola oil , or vegetable oil for frying
Preparation
In a medium bowl, whisk together the dry ingredients: flour, sugar, baking powder and salt.

In a second large bowl, whisk together milk, egg yolk and melted butter. Gradually add the flour mixture into your wet ingredients and whisk until smooth.

Pour 2 to 3 inches of oil into a large pot or dutch oven and heat over medium/high heat to 375˚F on a thermometer.

Peel core and slice apples into 1/4"-thick rings and place into a shallow dish. Squeeze lemon juice over apple slices and gently toss apple rings to coat with lemon juice to prevent browning.

In a medium bowl, beat 2 egg whites with an electric hand mixer, egg beaters or a whisk until stiff peaks form, but whites are not dry. Use a spatula to gently fold whites into the batter until fully incorporated.

Remove apple slices from the lemon juice, then dip both sides of the apples in batter to fully coat, allowing excess batter to drip back into the bowl.
Fry in hot oil batches in a single layer, frying for about 2 minutes per side or until browned, flipping once. Keep oil above 350˚F while frying.

Remove with a strainer and transfer fritters to a paper towel-lined plate to absorb excess oil. To serve, dust with powdered sugar or dip both sides in cinnamon sugar.